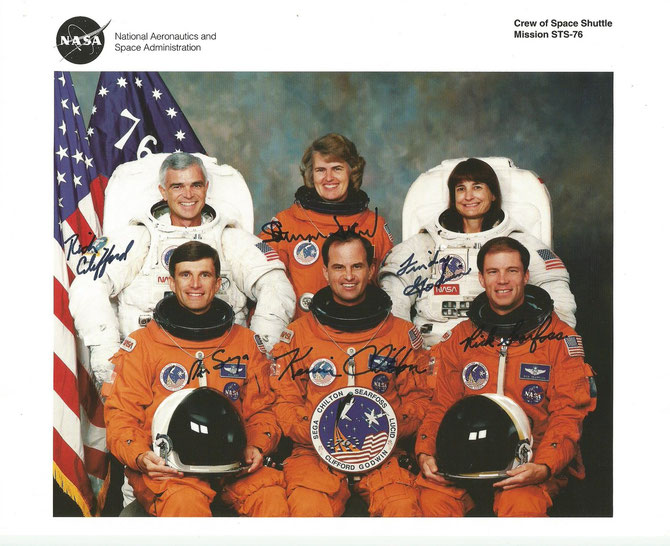 The new Orbitalstation Mir was after the different Sajlut Orbitalstations the most advanced and succesfull Orbitalstation.
Mir was the 8th Orbitalstation from Russia.
From 1987 until 2000, 30 Sojus spaceships (TM-1 to TM-30) have visited the Mir and 11 Space Shuttles STS docked at Mir station.
On 29.06.1995 the Space Shuttle STS-71 was the first one which docked at the Mir station.
On 19.02.1986 the mainpart of the new Orbitalstation Mir was launched by a Proton rocket.
The first visit to Mir station was Sojus T-15 with Leonid Kizim and Wladimir Solovyew from 15th of march to 5th of may 1986, but they stayed most of their mission in the older Orbitalstation Saljut-7
(6th may to 25th june 1986). From 26th june to 16th july they stayed once again in the new station Mir.
Unmanned Progess 25 docked on Mir 21th march 1986, Progress 26 docked on Mir 25th april 1986.
After the first unmanned flight from Sojus TM-1 (docking MIR 23.05.1986), the first manned flight to Mir was Sojus TM-2 with the russian cosmonauts Juri Romanenko and Alexander Lawelkin.
The Mir station was a totally new developed Orbitalstation with 4 compartments in the basic part with options for further expansion and upgrate.
Space Shuttle STS-71           launch                   27.06.1995                Robert Gibson              (USA)
(Flight 69, Atlamtis)               docking to Mir       29.06.1995                Charles Precurt            (USA)
                                             undocking             04.07.1995                Ellen Baker                   (USA)
                                             landing                  07.07.1995                Bonnie Dunbar             (USA)

                                                                                                           Gregory Harbaugh        (USA)

                                                                                                           Anatoli Solowjow      (Russia)

                                                                                                           Nikolai Badurin          (Russia)

Back to Earth crew:

Robert Gibson               (USA)

Charles Precurt             (USA)

Ellen Baker                   (USA)
Bonnie Dunbar              (USA) 
Gregory Harbaugh        (USA)

Wladimir Deschurow    (Russia, Sojus TM-21)       
Gennadi Strekalow       (Russia, Sojus TM-21)    
Norman Thagard          (USA, Sojus TM-21)   
First visit of a US Space Shuttle to the Orbitalstation Mir of Russia and the first time that 2 russian cosmonauts have flown in the Space Shuttle 

153 Orbits

Space Shuttle STS-72             launch          11.01.1996                 Brian Duffy                   (USA)
(Flight 74, Endeavour)             landing         20.01.1996                 Brent Jett                     (USA)
                                                                                                     Leroy Chiao                 (USA)
                                                                                                     Daniel Barry                 (USA)

                                                                                                     Winston Scott               (USA)

                                                                                                     Köichi Wakata              (Japan)

Back to Earth crew:

same

142 Orbits

Space Shuttle STS-73             launch           20.10.1995              Kenneth Bowersox            (USA)
(Flight 72,  Columbia)              landing          05.11.1995              Kent Romeger                   (USA)
                                                                                                   Kathryn Thornton               (USA)

                                                                                                   Catherine Coleman            (USA)
                                                                                                   Michael Lopez-Alegria       (USA)

                                                                                                   Fred Leslie                         (USA)

                                                                                                   Albert Sacco                       (USA)

Back to Earth crew: 
same     
225 Orbits 

Space Shuttle STS-74         

launch                 12.11.1995              Kenneth Cameron     (USA)
(Flight 73, Atlantis)               docking to Mir     15.11.1995              James Haldell            (USA)

                                            undocking           18.11.1995              Jerry Ross                   (USA)

                                            landing                 20.11.1995             William McArthur       (USA)
                                                                                                     Chris Hadfield             (Canada)


Back to Earth crew:
same

128 Orbits

Space Shuttle STS-75           launch        22.02.1996                  Andrew Allen                  (USA)
(Flight 75, Columbia)            landing       09.03.1996                  Scott Horowitz                 (USA)
                                                                                                  Franklin Chang-Diaz        (USA)

                                                                                                  Maurizio Cheli                 (Italy)

                                                                                                  Jeffrey Hoffman               (USA)

                                                                                                  Claude Nicollier  (Switzerland)

                                                                                                  Umberto Guidoni             (Italy)


Back to Earth crew: 

same

252 Orbits

Space Shuttle STS-76                launch                  22.03.1996              Kevin Chilton             (USA)
(Flight 76, Atlantis)                    docking to Mir       24.03.1996              Richard Searfoss        (USA)
                                                 undocking             29.03.1996              Ronald Sega              (USA)

                                                 landing                 31.03.1996               Michael Chlifford       (USA)
                                                                                                             Linda Godwin            (USA)

                                                                                                             Shannon Lucid           (USA)


Back to Earth crew:  

Kevin Chilton              (USA)

Ronald Sega               (USA)

Richard Searfoss         (USA)

Michael Chlifford        (USA)

Linda Godwin             (USA)

143 Orbits

Space Shuttle STS-77               launch       19.05.1996             John Casper                 (USA)
(Flight 77, Endeavour)              landing      29.05.1996             Curtis Brown                 (USA)
                                                                                                Daniel Bursch               (USA)

                                                                                                Marc Garneau               (Canada)
                                                                                                Mario Runco                  (USA)

                                                                                                Andrew Thomas            (USA)


Back to Earth crew:

same

161 Orbits

Space Shuttle STS-78             launch          20.06.1996                Terence Henricks           (USA)

(Flight 78,  Columbia)             landing         07.07.1996                 Kevin Kregel                 (USA)
                                                                                                    Susan Helms                  (USA)

                                                                                                    Richard Linnehan          (USA)

                                                                                                    Charles Brady                (USA)

                                                                                                    Jean-Jacques Favier     (France)
                                                                                                    Robert Thirsk                 (Canada)


Back to Earth crew:
same
272 Orbits    

Space Shuttle STS-79                launch                   16.09.1996           William Readdy           (USA)
(Flight 79, Atlantis)                     docking to Mir       19.09.1996           Terence Wilcutt            (USA)
                                                  undocking             24.09.1996           Thomas Akers               (USA)

                                                  landing                 26.09.1996           Jerome Apt                    (USA)

                                                                                                          Carl Walz                       (USA)


Back to Earth crew:
William Readdy          (USA)

Terence Wilcutt           (USA)

Thomas Akers             (USA)

Jerome Apt                 (USA)

Carl Walz                    (USA)

Shannon Lucid            (USA, Space Shuttle STS-76)

160 Orbits

Space Shuttle STS-80              launch          19.11.1996              Kenneth Cockrell            (USA)
(Flight 80, Columbia)               landing         07.12.1996              Kent Rominger                (USA)
                                                                                                  Tamara Jernigan              (USA)

                                                                                                  Thomas Jones                  (USA)

                                                                                                  Story Musgrave                 (USA)


Back to Earth crew: 

same

279 Orbits