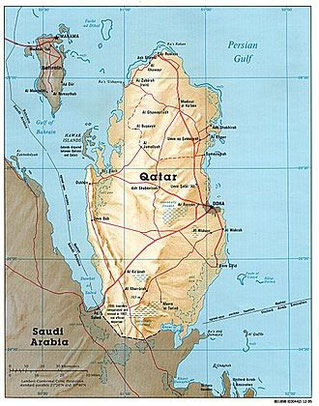 Language                   Arabien
Capital                        Doha
Goverment                 Absolute Kingdom
Emir                            Emir Sheik Tamim bin Hamad 
                                    Al Thani
Area                           11.606 Km2
Habitants                    1.699.435 (2010)
Habitants per Km2     148 habitants per Km2
BIP/Habitant               98.33  US$ (place 4, 2005)
Currency                     1 Qatar-Riyal (QR) =  100 Dirham
Independency             3. septembe 1971
                                     (from Greatbritain)
 1.) General Informations:
                   - Qatar was already populated in the stonehedge, rich in vegetation
                   - 7000 years from today already certain high culture
                    -Then change of climate and formation of the typical dessert landscape
                   - Population left this area, from time to time some small villages
                    -628 after Chr.,Population of the Arabien Island changed to the Islam 
                    -Biggest porblem shortage of water, small beduines families
                   - Around 1760 beduines families came back to the area of Qatar
                    -Family Al thani founded the Al Bid, the Doha from today
                   - 18th and 19th century, coast of Qatar was known as "Coast of Pirates"
                   -Close relationship to Saudi-Arabia
                   -British Eastindien Company finished the pirate behavier
                   -1867 heavy fights between Al Thani and Al Chalifa (Bahrain)
                   -1868 protecting contract between Qatar and the United Kingdom, established peace
                   -Nomination of Al Thani family as leader of the region
                   -Big economical and political influence of United Kingdom
                   -Pearlebusiness collapsed up from 1930, many Qataris left the region,economy crisis
                   -1939 first Oil sources, after fast growing richness and modernisation
                   -UK managed Qatar from India, Mumbai
                   -Due to that protection, currency at that time was indian Rupies
                   -First stamps up from 1957 to 1966 issued with Rupies as currency
                   -3.September 1971 Independency, british army left that region
                   -1966 New Currency Qatar Riyal (QR) = 100 Dirham
                   -1971 biggest oilfield worldwide discovered, today production 3rd place in the world
                   -1971 Sheik changed title to Emir
                   -1972 Emir Ahmad ibn Al Thani was retired by Chlifa ibn Al Thani
                   -Further absolute monarcy, but up from that time more economical development
                   -Up from 1977 all oil and gascompanies owned by the goverment
                   -1995 Chalifa ibn Hamad Al Thani was retired by his son Hamad ibn Chalifa Al Thani
                   -Reforms to more democracy started
                   -Up from 1998 Qatar is Headquarter of the US army in Middle East and base for the 2nd
                     gulfwar in March 2003
                   -Qatar will perform the Football world championship 2022
2.) Space stamps from Qatar:
In 1856 the first post office from the british-indian post opend in Muscat (Oman) and has delivered until 1st of april 1957 all the needed stamps which have been used in Qatar at that time.
It have been used englisch, pakistanien and indian stamps, partly with overprints.
The currency was 1 Rupie = 100 Naye Paise  (Qatar was under the protection of England and has been managed from Mumbai, India).
The german stampdealer Mr.Wink lived with his family in the 60`s and 70`s years of the last century
in Doha and was responsble for the worldwide shipping of the stamps from Qatar, especially of course to Germany.
That was the reason that most of the stamps from Qatar have been collected in Germany and UK
mainly.
Qatar have never reprint their own stamps later, what other countries partly have done,
so that in Qatar there haven been remained nearly no stamps for the qatar collectors Qatar and  in these days they have a lot of problems to get there own stamps back.
The first stamps of Qatar in indian currency (Rupies) have been issued 1957 and shown the conterfei of Queen Elisabeth II from England.
Up from 1961 there have been issued several stamps with the conterfei of Sheik Ahmand ibn Al Thani.
After Emir change in 1972, all Qatar remaining stamps with the conterfei of Emir Ahmed ibn Al Thani have been burned.
In the new century a Nephew of the current Emir bought and buy since 7 years nearly all stamps and covers from Qatar for his own collection of postal history of Qatar.
All spacestamps shown below are from our own collection and genuine.
For each item is given at the bottom of the corresponding scan a detailed discription and the quantity issued from the qatar post office and partly from our own investigations.
2.1.)  UIT stamps
      On 16 of october 1965 the first stamps related to the space have been issued from the qatar
      postal office,  the sets of  8 UIT stamps perforate and imperforate, together with two souvenir 
      sheets perforate and imperforate.
     The stamps have been printed in sheest of 25 stamps:
2.2.) UIT stamps New Currency surcharged
     In 1966 this UIT stamps have been issued with the overprint of the New Currency surcharged
     Qatar Riyal and Dirham.
     8 UIT stamps black, the lower value 5 stamps surcharged red perforate and 3 stamps imperforate  
     black surcharged.
     For the arabien word Dirham there are existing two different characters, the ratio is may be 95% to
     5%.
2.3.)  Gemini 6 and 7 stamps Old and New Currency surcharged
      Due to low selling of stamps and low postalic traffic and usuage of the UIT-stamps , on 8 of
      february, 8 of march, 17 of april and 14 of may 1966 there have been issued several new
     series of different coloured ( black, red and blue) overprints together with the two souvenir sheets
     black and blue overprint to honor the first rendevouz of two Gemini spaceships (Gemini 6 and 
     Gemini 7) on 15 of december 1965.
     Some of this sets and souvenir sheets have been as well issued with surcharge of New Currency.
     (5 lower stamps black overprint, 3 higher values blue overprint).
2.4.) 20 years UNO and honoring peacefull development of space (Telstar 1 and rocket Atlas)
   On 8 of march 1966 Qatar issued the full sheet  20  years UNO with the overprints of the empty  
   fields in the middle of the sheet, so that one empty field was transformed by this procedure to a
   official stamp. On this new generated stamp is seen the overprint of the probe Telstar 1 and the
   rocket Atlas in red/ black overprint and the words " Forward the peacefull development of space" in 
   red/black oeverprint. The sheets are issued in perforate and imperforate stamps and in Old and New 
   Currency, so that there are existing 8 different sheets.( Michel mentioned only 6 different sheets).
2.5.) Honoring J.F.Kennedy and Cap Canaveral Old and New Currency surcharged
    18 of July 1966 Qatar would like to honor JFK and Cap Canavarel and the US manned spaceflight
    program and issued 3 different stamps with 6 different values printed in strips of 3 stamps in
    the corresponding sheets in Old and New currency surcharged in perforate and imperforate typ.
2.6.) Honoring US astronauts and Gemini 6 and 7 rendevouz
    On 20 of auguste 1966 Qatar issued  several sets of spacestamps concerning especially
    to honor Gemini 6 and Gemini 7 rendevouz, but as well to honor generally the US astronauts went
    till that time to space.
    This sets have been issued perforate and imperforate and as well both sets with Old and New
    Currency surcharged. In total there are existing 4 sets, each two sheets.
    Two souvenir sheets (Old and New currency) have been issued as well.
,
2.7.)  Apollo program from the USA
   On 1 of may 1967 qatar issued a set of 10 stamps perforate and a souvenir sheet honoring the
   planned and realized Apolllo program of the US to reach the Moon before end of 1969.
2.8.)  Stamps issued honoring Apollo 11 moonlanding
    On 6 of december 1969 Qatar has issued 6 stamps perforate honoring the Apollo 11 mission of
    the USA.
2.9.) Stamps issued honoring the year of  education and the first spaceflight of Apollo 8 around the
        Moon christmas 1968
    On 24 of may 1970 the Qatar postal office issued two stamps perforate concerning the international
    year of education and the first spaceflight around the Moon from Apollo 8.
2.10.) United Nations (UNO)
     Qatar isssued on november 1972 8 perforate stamps honoting the United nations (UNO) where   
     two stamps have relationship to the space, one stamp is showing Intelsat 4 and the other stamp is  
     showing Tiros 7.
2.11.) Start of earth station in Qatar for satellits
    There have been issued 4 stamps honoring the start up of the satellit observation station in Qatar
    25 of february 1976.
2.12.) Specialties and Varities
     There are hardly known, and not listed in the commun catalogues some varieties and error 
     stamps of the different overprints, as there are inverted overprints, double overprints, overprint 
     shifts and backside overprints. (Gemini 6 and 7 rendevouz).
     There are existing as well some error overprints concerning the honoring of the US astronauts
     and honoring JFK and Cap Canaveral.. 
     As well are shown the not issued stamps and souvenir sheet honoring Yuri Gagarin and
     Valentina Tereschkowa.
     This not issued stamps and sheets have been printed in 1966, but due to the protection of Qatar 
     by the United Kingdom, they have not been allowed to issue this stamps honoring the soviet 
     cosmonauts, only honoring the US astronauts have been allowed.
     That means all printed Gagarin and Tereschkowa stamps and souvenir sheets should be 
     distroyed. But in the new century, after around 40 years 80 souvenir sheets and 8 full sheest of
     stamps (10 pair each) came to teh market in Qatar. (3 full sheets have been divided in the
     corresponding pairs.
     Of course this error stamps have only a very small limited edition and are very difficult to find.
 3.) Conclusion
                                         Why the first stamps of Qatar are so rare?
Due to less postalic traffic to and from Qatar, there was low sales of Qatar stamps at that time
After Emir change in 1972, all Qatar remaining stamps with the conterfei of Emir Ahmed ibn Al Thani have been burned
Today, a Nephew of the current Emir bought and buy since 7 years nearly all stamps and covers from Qatar from the market for his own collection of postal history of Qatar
Stamps never have been reprinted from Qatar, full complet sheets with 25 stamps are very rare
Qataris buying today all postalic items what is possible to get from Qatar on the market
(own collection and postal history)
                                         Specialities, Errors, Unkwon in Michelcatalogue
The currency overprint of Dirham (New Currency) has two different arabic characters
(ratio  may be 95% / 5%)
UNO issued sheet: 8 different kind of sheets are existing ( red/black overprint, perforate/imperforate), old/ new currency), Michel mentioned only 6 different kind of sheets
UIT stamps in New currency in red overprint of New Currency, only the 5 smaller values are existing in red overprint, Michel mentioned all 8 values are existing in red ( the 3 higher values are only in black overprint existing)
Not issued stamps and souvenir sheets honoring Yuri Gagarin and  Valentina Tereschkowa are existing (80 items), not listed
The different blue coloured overprints of the UIT stamps are not varities, it only depends on the dilution of the blue ink
Some double and inverted overprints of the UIT stamps and souvenir sheets and the print of New
Currency are not known in Michelcatalogue and other catalogues