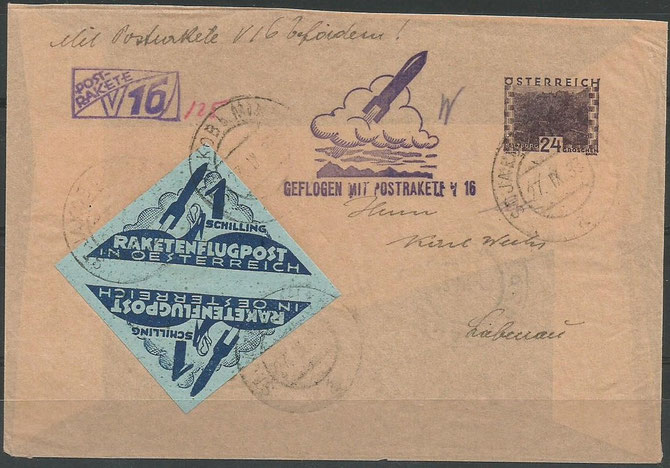 The first rocket trials has been started in different countries all over the world in the early 30s years of the last century, after the first stratospheric balloon flights.
The base for all this trials have been the development work and calculations of the three pioneers Oberth (Germany), Ziolkowski (Russia) and Goddard (USA).
One group of rocket engineers has been started in different parts of the world as there are for example  Austria (Schmiedl), Germany (Tilling, Zucker), Netherlands/France (Roberti),  Poland (Zucker), Yogoslavia(Weihs), India (Smith), USA (Ley, Rumbel) and Australia with their postalic intention and background by using the rockets to reach difficult landscaps for the delivery and transportation of mails.
The other group around Herman Oberth and Werner von Braun in Germany had their headoffice and development center in Peenemünde since 1935 and made strong efforts in research and development of lng-distance missiles..
In Peenemünde they constructed the A2/A4(Aggregat 4)/V2 rockets with military intention to reach the other countries around Germany during second world war and of course intention to reach space with their rockets.
With the first successful launch of the V2 on 3th of october 1942, scientists like Dr.Werner von Braun marked the beginning of a new aera in technology, so called space travel.
The V2 rocket was more or less the base for the further developments in the US and Russia after the second world war was finished.
Even China have used for their first rocket trials some technics from the older A4/V2 rockets via the russian Wostok and Sojus spacecrafts.
Konstantin Ziolkowski (Russia)
born   1857 Ischewskoje, Russia
died
Hermann Oberth (Romania,Germany)
born   1894 in Hermannstadt, Romania
died    1989 in Nürnberg, Germany
Robert Goddard (USA)
born   1882 in Worcester, USA
died
Germany                    Reinhold Tilling 
Born                13.06.1893            in Absberg (Germany)
Died                10.10.1933            in Osnabrück (Germany)
First german pioneer and launched his first rocket at Dümmersee , near Osnabrück (Germany),
on 15.04.1931
During explosion of the preparation for his second rocket trial on 10.10.1933, Tilling  and two assistents died.
Germany                      Gerhard Zucker
Born                22.11.1908              in Hasselfelde (Germany)
Died                04.02.1985              in Düren (Germany)
First rocket trial 31.08.1033 from Hasselfed to Stiege (Harz).
Her carried out as well rocket trials in England, Italy and Switzerland.
Rocket trials by him in the USA may 1936 during the stampexhibition was not realized.
Germany                      Peenemünde (Heimat-Artillerie-Park 11) 1936-1945

             Verein für Raumschiffahrt (VfR) 1927

             Raketenflugplatz Berlin-Reinikendorf 1930,
             Raketenversuchsstelle des Heeresamtes Kummersdorf 1932,

             Peenemünde on Usedom , developing of the A4/V2 1936,

             Karlshagen on Usedom (residential area for the scientists of Peenemünde)

             Trassenheide on Usedom Concentration camp in WW2 for foreign forced labor

             Zinnowitz on Usedom in WW2 used as part of testing facilities for V1 and V2

             Sangerhausen subcamp for Mittelbau-Dora concentration camp production V1/V2

             Parchim V2 rocket storage and camp for foreign prisoners for rocket production

             Production V1 and V2  in Mittelbau-Dora (Thüringen, Nordhausen) and Kassel (Lohfelden)

After the first rocket trials of the group of Oberth and Nebel in Berlin-Reinikendorf 1930 and in Kummersdorf 1932 at the Heeresversuchsanstalt, in april 1936 it was decided that the new Versuchsanstalt for the further developing of the V1 and V2 rockets should be shifted to Peenemünde on the island of Usedom after the visit of Wernher von Braun in december 1935 on the island.
Partly there have been 18.000 persons on work to realize the project in short time.

In Peenemünde the group of Oberth and von Braun developed the rockets which could reach already altitudes of around  85 km, first rocket flight of A4 on 03.10.1942.
It should not be forgotten that the development and the construction of the A4/V2 rocket was mainly done in Mittelwerk Dora with only informal workers and prisoners and thousands of this people lost their lifes under inhuman living conditions.
After WW II the hardware and software have been shiftet together with the responsible inventors to the US and the Soviet Union.

Fort Bliss (near White Sands) in the USA and Gorodomtja am Seligersee (near Moscow) in Russia were the centers of the further developments of the rocket technology.

Wernher von Braun
Born 23.03.1912 in Wirsitz (Germany)
Died 16.06.1977 in Alexandria (USA)
Hermann Oberth
Born                     1894 in Hermannstadt, Romania
Died            28.12.1989 in Nürnberg, Germany
Other german  Pioneers
Rudolf Nebel
born  21.03.1894       Weißenburg  (Germany)
died  18.09.1978        Düsseldorf    (Germany)
Austria                      Friedrich Schmiedl
Born        14.05.1902            in Schwertberg  (Austria)
Died        11.09.1994            in Graz               (Austria)
Schmiedl was chemist and inventor
Most famoust inventor and pioneer on that field and launched his frist rocket mail R1
In the years between 1928 and 1935 Schmiedlecarried out a lot of experiments with rocketmails.
On 10.06.1928 he launched his own constructed stratosphere balloon FS1 and lauched in an altitude of 16.000 m his first solid rocket FS1.
On 09.09.1931 has been started the first official rocket mail R1 which has been carried for the first time in history letters for delivery ( post of transport rocket mails). 
Netherlands        Charles Roberti
No biodates  are known from Charles Roberti.
He was born in the Netherlands
Roberti launched his first rockets in the Netherlands, later as well in France and Belgium.
Rocket trials by him in the USA may 1936 during the stampexhibition was not realized.
France                  Charles Roberti
No biodatas are known from Charles Roberti.
He was born in the Netherlands
Some rockets trials have been carried out as well in France, but the rocket trial with the rocket P 28 from Calais (France) to Dover (United Kingdom) over the Channel has not been permitted by the french authorities.
Netherlands/Belgium /Luxembourg          Adam J. de Bruijn
born      08.11.1901        Amsterdam    (Netherlands)
died      27.09.1969        Arnhem         (Netherlands)
The exact number of rocket launches where de Bruijn has been responsible or where he has been constructed the rockets is not known.
But he started already in the year 1921 with his first rocket trials.
India                      Stephen Smith
Born                14.02.1891           in Shillong (India)
Died                15.02.1951   
Famous pioneer in India and carried out a huge number of rocket trials.
His first rocket experiment has been undertaken on 30.09.1934, so called ship to shore, and launched from the ship Pancy in direction to the beach.
He carried out more than 250 rocket trials until the year 1944, that means over a time period of around ten years and with the rocket trial No.65 the first trial in history rocket flights with vertebrates (Live Stock), the hen EVA and the cock ADAM, which survived this experiment for many years.
USA                   Willy Ley
Born         02.10.1906           in Berlin        (Germany)
died          24.07.1969           in New York   (USA)
He supported together with Hermann Oberth and Rudolf Nebel as technical assistent the movie from  Fritz Lang  "Frau im Mond" 1929.
He moved 1935 to the US where he worked as an engineer and later as a professor at University.
Two rocket airplane launches are known from him in the year 1936
USA/Mexico              Keith E.Rumbel
born      04.05.1920                            (USA)
died      08.03.2008       in  Oakton     (USA)
Rumbel was chemist and investigated different fuels for the rockets.
USA/Mexico, first international post rocket launch between McAllen (Texas) and Reynosa (Mexico) over the river Silvery Rio Grande, 5 rockets transported on 02.07.1936  totally 1356 covers flown, covers cancelled in Reynosa, Mexico.
At the same day 922 covers has been transported back with 5 rockets from Mexico to USA.
Totally it have been carried out 13 different rocket launches in the year 1936
Canada/USA
During the 3rd international stampexhibition in New York 1936, several rocket trials by Gerhard Zucker or Charles Roberti should be carried out, but no rocket was launched, all existing covers are not flown.
Cuba               Antonio V.  Funes
Funes was constructor.
It has been carried out totally 4 different rocket launches in 1939